The Manna Resort is located just a few kilometres from Bolzano, but its appearance sets it apart from the other the hotels in the area, with their instantly recognizable mountain style.
The unique architectural design of the Manna is intimately linked to the experiences it offers to guests: no part of the resort is the same as another, each is a project in itself that nonetheless finds harmony in the synthesis of the complex as a whole.
This variety is expressed in the three suites and twelve junior suites, designed to recreate the corners of the world: Africa, Arabia, Japan, Russia, France, Lapland…
The selected woods, the wall and floor coverings, the new furnishings mixing in with originals collected by the owner on her numerous trips, every detail is designed and built with the idea of travel in mind.
The resort is completed by the restaurants, a gourmet room, the bar area, the three chalets and an exclusive spa.
A 360° challenge for Moretti. From the complete design of all the furnishing elements that make up the various rooms: restaurants, bars, halls, junior suites and suites, chalets and spas.
The project was first created and proposed to the client with realistic photo renderings, followed by the more technical and executive design stage, including solid modelling where complexity required it. The executive drawings allowed us to interact with and direct the work of the other companies involved in the project.
We took care of all phases of the project. As well as the design, we produced all the wooden features in our workshop, combining the wood with many other materials necessary for the aesthetic realization of the work. Crucially, our trusted craftsmen took care of the installation, which allowed us to achieve the desired result.
Our obsessive attention to detail came through on this project in the meticulous choice of materials, with marbles of different origins for each room, distinct woods for each environment, and ceramics, stone, fabrics and decorative elements that complete the feel of a resort where you can breathe in the uniqueness around every corner.
Duration:
2020-2021
Location:
Mountains, Bolzano
Commissioning client:
Maria Luisa Manna
Category:
Hospitality
Inauguration date:
November 2021
The walls of the spa recall the East not only for the atmosphere they create but also for the finishing techniques used. They are covered in wood treated according to the ancient Japanese method of Shou Sugi Ban.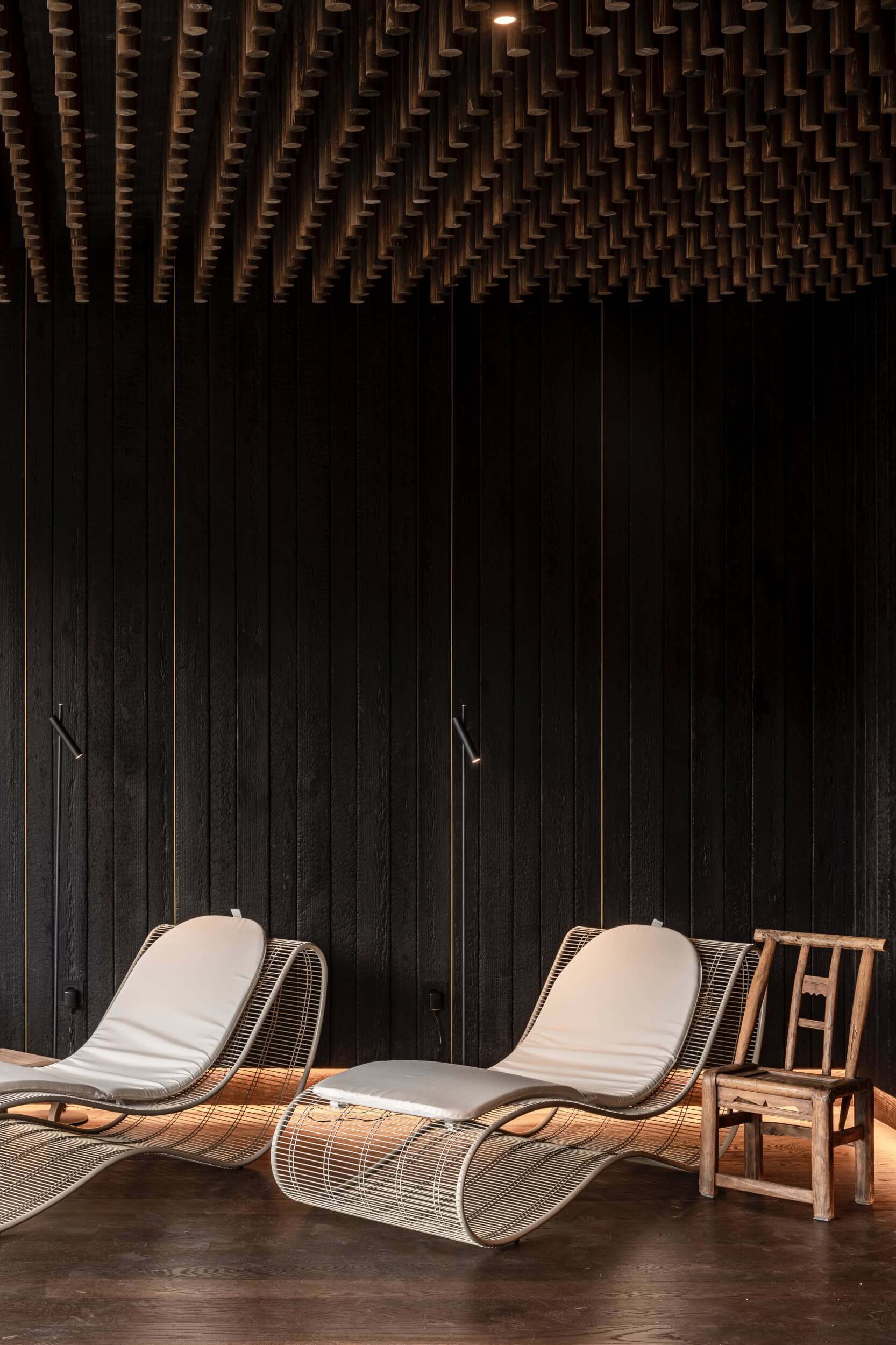 Wood, stone, texture: each suite has its own style, made up of details, materials and skilful workmanship. Choices which place the guests' comfort at the centre.
Something truly unique, a constant visual dialogue between exterior and interior, natural and built environment. A multisensory journey that takes its shape from every detail.